Click Here to Visit our Sponsor
Reviews: Sotec Notebooks
Reviews on notebooks from a new entry in the US, Sotec
---
Since this is a new notebook brand and many people are asking about them, I'll post reviews that I find here. My philosophy is to buy from well-known name brands, but this notebook has garnered enough interest for me to put some information about it here. Their website says that they are a subsidiary of a 14 year old company from Japan and they are striving for high quality, low cost and customer satisfaction. Just remember that if you do purchase one, make sure you get some type of extended warranty to protect yourself (and I recommend that no matter what brand of notebook you buy).

4 User Reviews: Jan 16, 2003 | Dec 18, 2002 | Dec 8, 2002 | Dec 6, 2002

1 Net Review: Mar 5, 2003 - C|Net Review of Sotec 3120X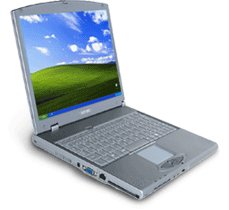 January 16, 2003
A review by Karl G. who emailed me this review.
Pros:
Very solid case….my two year old Dell Inspiron $2K notebook (that my wife grabbed for Pharmacy school) is much more flimsy and less structurally sound. Display is very good and weight less than 5 lbs.
Worked right out of the box… everything the first time. Sound system is better than my above mentioned Dell. I use this cheapy notebook to play MP3s on flights and cement mfg. sounds into an expensive optimization system on site demos & system testing.
Price was $900 at a Walmart Superstore. I found this on the web after your other viewer said to check it out elsewhere besides Best Buy.
Battery life appears to be 3 hours or more (except if you are burning a CD, you better be on AC).
Three USB ports are very nice. I have a wireless mouse in one, serial/parallel port breakout hub on another and then one to spare.
Overall very happy with this system and expected far worse. I have been thinking of even buying another as a spare. See price reason below.
Cons (not really but I have to say something negative about it):
Delete key is in a weird spot but after a week of using it, I am used to the location. Same goes for accidentally hitting the numlock key which puts it in the "Fn" mode where all kinds of alternative characters get printed. This is the only time I consulted the manual to learn to hit the numlock key again (on purpose this time) to get the regular key settings back.
Well this is not really a con but bugs me a bit…I teach a big class at a big school in engineering and on the first day I showed it off to my students and told them where to buy it. Later a couple students came to me and said it looks great and by the way Best Buy now has $200 in discount coupons on it…. so you can pick it up for $750! I have too much software installed and time invested on this notebook to take it back and save another $150 by getting now at Best Buy.
Cheers,

Happy Customer
---
December 18, 2002
A review by Glenn B. (pkguy323@ivwnet.com) from the comp.sys.laptops newsgroup.

OUT OF THE BOX
Packaged very neatly. You get a 3 CD Restore Kit, a nice instruction manual and an OEM MS Works 6.0 CD. This thing is SO LIGHT-It's like carrying a 5 subject sized paper notebook. This will be nice when I lug books around for another semester. My last laptop was like a ton of bricks.

FIRST BOOT
I booted it up and this one is so quiet. I had to check and see if the fan worked because it is so quiet. The casing feels really light-I hope this means it can take normal usage without an early crack here and there.
The keyboard layout is really interesting to say the least. The up/down/left/right arrows are bundled up with other key functions. The spacebar on this one is very responsive-my warranty repair notebook I almost had to hit and hold for it to space once- I don't recommend it if you have big fingers-the keys are squashed altogether.
WinXP booted rather quickly and the screen resolution is so amazingly crisp for a notebook of this price. The DVD movie I played in it looked better than my TV resolution.

AUDIO
The speakers won't power the next major Bass Boom generation-they are functional at best. Turning on the 3D audio does help some, but for movies and other things you want to hear well, invest in some headphones. The MIDI output is decent-I haven't tried the microphone yet.

CD/DVD
This is what makes it a bargain-the Combo drive. Sotec bundles in the WinDVD player for movies and Roxio EZ CD Creator and it ROCKS! I'll make the adjustments Michael suggested in his post about the power settings.

BATTERY
An unusual shape, but it looks to average 2.5 hours. You can have the BIOS "learn" the battery so your power gauge is more accurate- never seen that feature before..

LAN/PMCIA
I just hooked up the LAN cable to the laptop, let WinXP take me through the setup and WHAM, I was on the network. At work, I can plug in just to use the internet bandwidth and this little baby can download things lightning fast. I wish I had DSL at home.

DRIVES
There is no floppy drive, but Sotec will sell you a USB Floppy Drive for $49. I've never seen one, so that's news to me. The 3 USB ports seem more than ample to hook up a printer, and other items. I like them on the right side. If it weren't for the battery on the back, the back would've been so much better.

MODEM
The modem is a flip-out door that I had to realize I needed to plug the jack in at an angle. I'm afraid I'll break it because it seems so flimsy. Connection speed has been better than my desktop using the same number/line to dial in.

HOT KEYS
Oddly placed on the front side to the left of the touch pad, but at this price, I'm glad to have them on the notebook at all.

HARD DRIVE
Normally the 3120X comes with a 20GB hard drive. The 3123X sold at Sam's Club has 30 GB-for the same price.

OVERALL
This SOTEC 3123X seems to be a durable piece of equipment loaded with everything needed for a portable computer-with DVD capability. I think my first notebook was probably a fluke with problems out of the box, but this one seems like a solidly built unit.

I do have a SOTEC Notebook support page in the beginnings on Yahoo Groups at:
Post message: SotecNotebook@yahoogroups.com
Subscribe: SotecNotebook-subscribe@yahoogroups.com
Unsubscribe: SotecNotebook-unsubscribe@yahoogroups.com
List owner: SotecNotebook-owner@yahoogroups.com

---
December 8, 2002
A review by tyson (seiyaspike@earthlink.net) from the comp.sys.laptops newsgroup.

I have been looking for a thin light laptop for several months. I originally was going to buy a used IBM ThinkPad for under a $1000. I did not want a Dell because I found the CPU fan too loud (I am an audio engineer). When this deal came along I decided to buy it. My impressions:

**Pro:

Fast! 1.2Ghz is nothing to sneeze at. Since it is based on the P-III core (and running at 133Mhz system bus), I can't complain.

256MB RAM to start-off. Good amount of ram to start of with. Having multiple applications running has not been a problem.

DVD/CD-RW. For such a small computer to have the combo drive is cool. When I run out of space I can burn some files off. The DVD playback is smooth.

LCD screen is very bright and nice output. No bad pixels.

Windows XP. The laptop was all set to go. I turn on the computer, input my information and off I go. Standby and hibernate work every time.

Drivers. I like that on Sotec's website they have drivers for all the win 98/ME/NT/2000/XP OS. So if I want to install a different OS I can. I don't know if you can install Linux.

3 USB plugs. I can plug in my USB mouse and Printer at the same time without using a hub.

4 pounds! You are not going to find a new system this light at this price range. All the new $699-$899 laptops weigh at least 6 lbs or more.

Cool. The problem with the AMD laptops is that the chip is so damn hot. I can rest the laptop on my lap and not have to worry about burning my legs.

Built-in LAN and Modem (which runs very fast unlike some other laptops do not give you the full bandwidth).

**Con:

Too bad it doesn't have speed step like the P-III mobile. The CPU runs at 1.45v where the P-III runs around 1.10v. This would help extend the life of the battery.

Keyboard. It does have a strange placement of the del and backspace key. It will take some time to train myself on the keyboard.

Weak speakers. I understand you are not going to get great sound out of the system but I heard better systems from Dell and HP. You have to modify the settings in the control panel to get it louder. Had to find out about this on their tech support website

Crackling sound in audio output. Since the plug is close to the HD, you hear it spin up and down during the quiet passages. I'm not worried because I am getting an external USB sound converter. The crackling sound is a common problem on the laptops because of the tight space on the systems.

No IR port. So far I haven't seen anyone mention anything about this. It'll be nice if it had this but be aware of this unusually missing component.

*********************
This is my first laptop purchase and I am pleased with the built-in features. I know I can add fire wire or wireless through the PCMCIA slot. I am a happy customer (at least for the past two weeks.

tyson
seiyaspike@earthlink.net
---
December 6, 2002
An anonymous user from the comp.sys.laptops newsgroup posted this review:


1.2ghz Mobile Celeron / 12" XGA / 256MB RAM / 20GB Hard Drive / DVD-CDRW

Office Depot : $804 after 10% coupon and $50 rebate

Who should buy this?
This is perfect for people that understand that "Laptops should be portable" and not "Desktops in a bag". Its lightweight, packed with everything you need and cheap as heck.

Price:
At $949 retail then this is a steal. You can get it cheaper at walmart/sams club or with coupons at office depot. Yes, there are faster, more powerful notebooks out there but those are in another class. This is an ultralight with onboard dvd/cdrw so for what you get its very affordable

Exterior:
Magnesium Alloy case. I always love laptops that use that. It looks silver in pictures but mine has a hint of blue in it.

Performance:
Well, I understand that laptops don't need to be equivalent to your home desktop. So the processor being "only" 1.2ghz Celeron doesn't bother me at all. Its plenty fast for any normal sensible user. Its nice to see that despite the low price it comes with 256mb RAM. My last notebook only came with 128mb so I had to fork over some extra money right away. 256 here will keep me happy for a while.

Ports:
3USB 1.1, Ethernet, 1 PCMCIA, VGA out, headphone and mic jack and modem. Pretty standard stuff. A bit TOO standard for me. No firwire? No S-Video? What about my divx files? This would've been a great portable Divx player. The port positioning for some things are weird too. The usb are all on the right side. Meaning, when I put in my USB mouse then its awkward. The usb shouldve been on the other side. Headphone and volume are on the front of the machine and the vga is on the left side. Weird.

DVD/CDRW Drive:
Works like a charm. At 10x burning then its very handy when on the road. Plus DVD's are always a good time waster. Everything worked as promised.

Battery Life:
I timed it at 2:10 before my 10% warning came up while installing. It ran another 20 minutes before hibernating. I figure that during less strenuous activities then you'll average 2:45

Screen:
1024x768 on 12" screen takes some getting used to. But since I had that before on my Gateway 3150 then it wasn't too tough. It is small though compared to what the other guys out there have but again, it's a laptop. Personally 13" is the sweet spot but 12 is just fine on this guy.

Keyboard:
By far the thing that I hate the most here. Whoever designed this thing in Japan obviously doesn't understand how keyboards should look. I may be exaggerating but still, this keyboard takes some getting used to. Primarily due the backspace, insert, delete and arrows layout. (See Picture) I am constantly hitting "end" instead of backspace and "del" instead of the right arrow. "PrtSc", "Scroll Lock", "Num Lock" and "Pause Break" all get their own dedicated buttons on top while "F11" "F12" "Pg Up" "Pg Dn" are forced to requiring holding down the "Fn" in order to work. Pretty ridiculous.
Audio:
Its not bad. Standard stuff. I do like volume wheels so that you can control the volume quickly without using hotkeys
Noise:
Pretty quiet machine. There is a fan on back and on the bottom which turn on when needed and so far they don't turn on much. Ive had some loud laptops before so this one is pretty good so far.
Upgradeability:
1 slot for Ram upgrades and there already is a 128mb chip in there. So if you want to max it out to 356 MB then you need to dump the 128 and buy a 256. The processor has a "void if removed" sticker and a few screws so it looks upgradeable but outside of that then this is a disposable machine. Hard drive and cdrom and both fixed so 20gb is what you're stuck with.
Pros:
- Extremely affordable for an ultralight
- Onboard DVD / CDRW
- Quiet
- Magnesium Case instead of plastic

Cons:
- Keyboard layout takes getting used to
- Sotec? Popular in Japan but who knows how they'll do here

---
If you have a Sotec notebook review you would like me to link to, please send me an email at notebook@edgeworld.com.
8781