Home
What's New
Articles
Links
Buying Tips
Reviews
Chat
Message Board
About
The WinBook XL2 Full Review
My in-depth review of the new WinBook XL2. (Last updated December 2, 1998)

---
As you may know from my previous article, WinBook sent me a pre-production model of their new XL-2. This unit is a technological first as it is the only all-in-one (3 drives and battery internal) notebook in this form factor (about 1.5" thick). Not only that, but it has a 14.1" screen, AGP graphics, a DVD drive, an LS-120 floppy, dual pointing devices and the option of an internal 56k modem! Oh... and what about power? How about a 300mhz Pentium II CPU, 128MB SDRAM and a 6.0GB hard drive? And for $3199, that's not a bad deal.

This is my first full review for my own site but I will use a similar format that I used on the Mining Company site.
Technical: Instead of my usual breakdown, I've added a link to WinBook for this information
Pictures: The pictures are from WinBook's website.
Features Ratings: I still include a feature by feature comparison with a listing of Pros and Cons, but I don't total the scores. You should just judge for yourself how each feature rates.
Performance: I am using the new ZD Benchmarks 99. This way you can compare them to PC Magazines newest notebook review benchmarks.
Conclusion: My final thoughts on the Winbook XL2.
The machine I tested has the following specs:

300 PII, 128MB SDRAM, 4MB SGRAM AGP video, 14.1" TFT screen, 6.0 GB HDD, DVD, LS-120 FDD 56k built-in modem
$3199
Includes 1 year parts/labor warranty, $299 extra for 3-year Premium Care warranty
Like I mentioned earlier, instead of repeating information, you can find the tech specs on WinBook's website.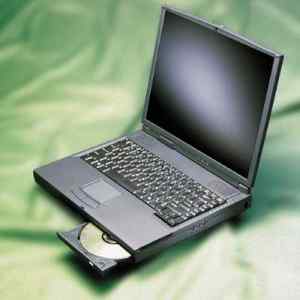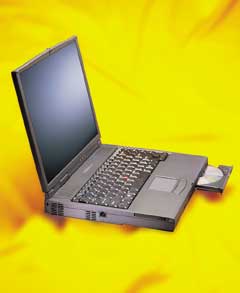 Image courtesy of Winbook
Feature
Pros
Cons
Score
Screen
Really good screen, it was bright and very evenly lit. The image is very clear like most LCDs. No dead/stuck pixels but you should really expect a few as that is the standard on all LCD displays.
None really, this screen seems to be more evenly lit than previous ones I have seen
5
Keyboard
The Winbook keyboard has the typical vertical row Home/Pg/End keys on the right. The Backspace/Enter/'\' keys are a little smaller because of this but it was not a problem. It had a very nice feel to it, not too hard, not too soft. Most people should like the sturdiness of the keyboard.
That darn Fn key is still on the outside left. Some of the keys are a little smaller. With keyboards that have the vertical row of "nav" keys on the right hand side, I tend to hit them while inadvertently trying to backspace or enter, but your hands "learn" the placement after a while.
4
Video
Very fast performance, uses the ATI Rage LT Pro 3-D AGP chip with 4MB of SGRAM. In my opinion, it is the best portable video chipset on the market.
None, although I'm not sure about Linux compatibility and some people would prefer it to have dual-output capability.
5
Pointing Device
Pointing stick AND touchpad! You disable one or the other in the bios, the touchpad is a Synaptics
None really with 2 pointing devices, and this will help solve that "Which is better?" question (I prefer the touchpad actually)
5
Hard Disk
Toshiba or Hitachi 6.0GB Ultra-DMA
Pretty quiet, and very fast
5
CD-Rom (DVD in this case)
Generation II DVD 2x, can read CD-Rs and CD-RWs
I think it is supposed to be comparable to a 20x CD-Rom but it feels slower than that.
5
Floppy
LS-120, can read older 1.44MB floppies and IS bootable.
Very noisy! This is more a mechanized floppy and you can tell but that is a small price to pay for the increased storage capability
5
Ports and Bays
Left: One Type II PC-Card (PCMCIA) slot; modem port; fan vents Rear: DC-in; USB; door-covered section containing PS/2, S-video, TV-out (NTSC), VGA-out, serial and parallel; PS/2; door-covered expansion port for docking bay/port replicator; Kensington lock
Right: IR port; line-in; mic; line-out; one Type II PC-Card (PCMCIA) slot
Front: DVD drive, LS-120 drive (side-by-side, not stacked)


Covers: 2 covers that open in the back, one for the expansion slot, the other as mentioned above

No video-in or MIDI. On another note, the PC-Card slots are not stacked so you can only use Type-II cards (that means no Type-III cards like the new Xircom RealPort).
4
Modular Bay
The DVD bay is removeable but the only thing designed to go in there would be a regular CD-ROM, don't know if there is future capability of 2nd hard drive or 2nd battery
It would be nice if it was a modular bay for a 2nd battery or 2nd hard disk because some people tend to want more flexibility
?
Battery
If you remember my previous review of the XLi, battery life was horrendous, I only got about 1:30 to 1:50. It could have been a bad battery because when I ran it on this machine, I got about 3:30!! And remember that this is a Pentium II and I ran it with power management off. I may have missed some PM options somewhere but I set everything for 'NEVER' in the Power Management settings and turned it off in the BIOS
Surprisingly high for a Pentium II 300, so no cons really.
5
Accessories
You get all the manuals, a start-up disk, a Win98 CD, a phone cable and even some replacement "eraser" heads for the pointing stick
N/A
N/A
Price
$3199, an EXCELLENT price for an "all-in-one" machine with these features (someone asked me to be more exact about this EXCELLENT term... well I use it as a comparative statement against other all-in-one machines at this level of configuration, the XL2 is one of the least expensive)
Based in Ohio, they charge sales tax to Ohio residents but not the other states
4
Performance
With a WinStone 98 score of 21.1, this is higher than most of the scores compared to the latest PC Mag notebook roundup
None
5
Zoomed Video, CardBus and USB
Supports all 3, and BOTH card slots support Zoomed Video and CardBus
I will probably drop this category because this is becoming standard on laptops
N/A
Software & Drivers
You only get the Win98 CD with the WinBook and some other small utility programs
None
N/A
Warranty and Tech Support
1 year parts and labor, and I believe you can purchase a 3-year extended warranty for $299 that includes free shipping

I've gotten conflicting reports of their tech support but overall I would have to say that it's pretty good, you may want to do a DejaNews search to find out owner opinions.

None really
3
Sound System
The speakers are well placed, above the keyboard out of hands way (one of my favorite places). Sound is typical for a notebook but better than many others I've heard. The volume control is a via Fn-F8/Fn-F9 and has a mute via Fn-F10. The mic is located just to the right of the cursor keys

The sound system is ESS Technology, ESS Maestro-2M with 3d support

I prefer the dial for the volume but that's just my preference
4.5
Size and Weight
Well... have you seen any other "all-in-one" machine that is 1.5" thick and weighs about 7lbs? When I have it next to a Gateway Solo 9100, it is amazing how much smaller it looks. Although the specs say it's 7 lbs, my bathroom scale at home (which we all know is a scientifically accurate measuring device) reads about 7.8lbs. I would give it a 7.5lb rating to adjust for error (I have been told that the production units weigh about 7.4lbs). One thing is that it feels really sturdy, I was thinking that it may be due to how everything is probably compacted in there (which may be good or bad?). But overall, this is the perfect size for a 14.1" all-in-one notebook.
None really, maybe thinner and lighter but then you would have to remove the drives
5
I could total the scores, but this would be irrelevant. Just know that each category has a high of 5 points. And I repeat again:

Remember that this is a relative scoring system and should only be compared to units that fall in the same class. Rather than looking at the total score, you should actually see how I rate each feature and then decided for yourself how well this machine suits your needs.

If you have any specific questions about any of the categories or any suggestions about how I can improve my rating system... please let me know.

WS98 GWM98 DWM98 CPU32 CWM98 NSI  PH
--------------------------------------
21.1  134  1040   733   871   *  3:27  

The following is for the Winbook XLi
19.8  103   845   687   974   *  1:38


WS98: Business Winstone 98, GWM98: Business Graphics WinMark 98, DWM98: Business Disk WinMark 98, CPU32: CPUMark32, CWM98: CD-ROM WinMark98, NSI: Norton SI, PH: PowerHour 1.0
* Norton SI could not run on Windows 98

You can compare these scores to PC Magazine's latest notebook benchmarks.

I've also included scores for the new ZD Benchmark 99 version (which I am sure PC Mag will use on their next reviews issue):

WS99 GWM99 DWM99 CPU32 FPU99
-----------------------------
16.5  99   2020   741   1540

WS99: Business Winstone 99, GWM99: Business Graphics WinMark 99, DWM99: Business Disk WinMark 99, CPU32: CPUMark32-99, FPU: FPU WinMark-99 I would have to say that the WinBook is the best all around notebook out there. I would prefer a better tech support program similar to Transmonde but they are working on it. Pricewise, for these features, you can't beat it and even with the extra $299 for the Premium Care warranty, it is well worth the money.

Here are some additional notes:
There are 2 sets of indicator lights. 3 are at the bottom of the display and are used for power, batter and batter status (these can also be seen on the outside of the display. The 2nd set is along the right hand edge of the unit and are for CD, HDD, floppy, num lock, caps lock and scroll lock.
There are Fn key combos for turning off the display, switching between LCD and external monitor, standby, suspend, brightness, volume, mute and loud
The fan noise is noticeable but that is normal
The pointing stick is an IBM Trackpoint I believe (but due to trademarks I don't think they can say that)
The XL2 comes loaded with Windows 98
WinBook also includes the manual electronically on the system (which is very helpful).
Like the big mail order companies, WinBook does have a 30-day satisfaction guaranteed return policy.
Shipping was delayed for a while on the initial orders but I believe they started rolling out November 1
The $99 port replicator has a MIDI/gameport along with 2 PS/2 ports, USB and all the other ports
On service, I was told by someone at Winbook:
"WinBook received a four-star rating (equal to Dell, Gateway, Micron and Toshiba) in the 11/98 survey of PC World readers (see p. 115, 11/98 PC World) Reliability was three-stars, a big improvement over scores in the 7/98 issue of PC Magazine. Our own data shows continuing improvements in reliability. By 1999, we should be on par with the best in both service and reliability."
I have gotten both complaints and praises about Winbook's service so it's hard to say but I tend to be in favor of their efforts and would rate them as reliable.
Maximum RAM is 128MB but I think it should be able to go up to 256MB with the new 128MB DIMMs (2 slots, independently filled).
A press release that I got says you can order it with CD-ROM instead of DVD, which would save you a couple of hundred but I'm not sure about that so you may want to call them.
There are some other points I may not have touched on but went over in my First Glance review and my XL2 FAQ.
Even without the thinner form factor, the XL2 is an excellent desktop replacement. But its size and the fact the it is one of the few (if only) that offers DVD, LS-120, dual pointing devices and an AGP chipset in an all-in-one design makes it stand out on its own.
If you still have more questions for me, please post a message. For more info from WinBook about the XL2 or if you are thinking about buying one, their phone number is 800-254-7806 or www.winbook.com.